The Team at New Dawn Memory Care
The New Dawn Memory Care team is comprised of passionate and well-trained individuals dedicated to exceptional senior care.
Our goal is to help our residents achieve maximum independence, while supplying excellent social, physical, and emotional support. We offer exceptional wellness programs, social activities, and health care in a family atmosphere to create a community you will enjoy calling home. Our team of dedicated and compassionate staff is there when you need them.
Interested in joining the New Dawn Memory Care team? Visit our careers page!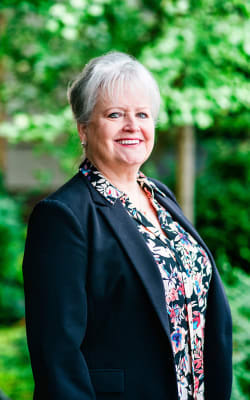 Susan Morris, Executive Director
---
As a young adult, Susan Morris invested most of her career in sales, customer service, and business operations.  She realized early on that her passion was in achieving a successful balance between operations, empowering teams, and supporting folks along their journey with respect and dignity. 
She has followed her passion by serving as an Executive Director in the Health Care Industry for over 16 years.  Her dedication and perseverance enabled her to become a certified dementia specialist.  She enjoys facilitating training classes and seminars on understanding the many faces of the various types of dementia. 
In addition to being a certified living administrator, Susan has earned two master's degrees, one in Gerontology and the other in Organizational Development and Human Resources, both from USF, University of San Francisco.  In addition, she has a bachelor's degree in Psychology from California University, Fullerton. 
Susan is a native Californian and decided to follow her family to beautiful Colorado Springs four years ago. When not working, Susan enjoys spending time with her family, gardening and remodeling homes.  She also volunteers and participates in the annual Alzheimer's Walk.   
Stephanie Autovino, Assistant Executive Director
---
Stephanie Autovino has been volunteering and working in senior care for over 15 years. She has gained experience in Independent, Assisted and Memory care communities.  In addition to her role of Assistant Executive Director, Stephanie has held many different positions in this industry. 
"The best part of my current role is being able to spend quality time with all of our amazing residents, supporting team members, and assisting family members every day," shared Stephanie.
Stephanie is originally from Southern California and has a Bachelor's Degree in Criminal Justice from California State University, Fullerton. Her passion for Memory Care started in her college years as her sorority's philanthropy focused on the Alzheimer's Association. She was able to learn valuable information and volunteer at several Alzheimer's events. Her favorite event to participate in is the Walk to End Alzheimer's. 
She is very proud to be a part of this team and to have the opportunity to add to its success.