The Team at New Dawn Memory Care
The New Dawn Memory Care team is comprised of passionate and well-trained individuals dedicated to exceptional senior care.
Our goal is to help our residents achieve maximum independence, while supplying excellent social, physical, and emotional support. We offer exceptional wellness programs, social activities, and health care in a family atmosphere to create a community you will enjoy calling home. Our team of dedicated and compassionate staff is there when you need them.
Interested in joining the New Dawn Memory Care team? Visit our careers page!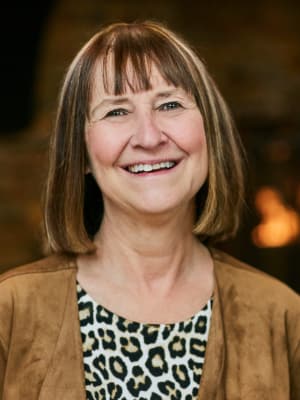 Nancy Britton, Executive Director
---
Nancy was born and raised in western New York. She did her undergraduate studies at the State University of New York, majoring in Psychology and Sociology. She later accepted a teaching fellowship at Virginia Polytechnic Institute and State University in Blacksburg, VA where she received a Masters in Family Development with an emphasis in Gerontology.
Nancy has served as a medical social worker in an acute care hospital where she worked with the elderly to obtain appropriate post-discharge care. In 1992 she moved to Wyoming where she brought her skills to Castle Rock Convalescent Center, first in social services and later as the Administrator for Skilled Nursing and Assisted Living/Board and Care. During her time in Wyoming, Nancy also served on the Board of Nursing Home Administrators, including two years as Board Chairperson. She has presented papers on Quality Improvement at meetings of Mountain Pacific Healthcare. She also served 11 years on the local school board and served with the Wyoming School Board Association and the Wyoming High School Activities Board.
Relocating to Colorado in 2006 to be closer to family gave Nancy the opportunity to work at a skilled nursing facility in Colorado Springs and later as the Executive Director for an Assisted Living community before moving to New Dawn.
Nancy has four children and four grandchildren. She has been married to her husband Scott for 38 years.
Our Medical Director:
Michael Ragsdale, M.D.
---
Dr. Michael Ragsdale has been specializing in sub-acute and long-term care for over 20 years. Graduating from the University of Texas as a Medical Doctor in 1989, he has used his expertise and passion for helping others to treat people from many walks of life. He has been Medical Director at many facilities in the Denver Metro area and a Hospice Medical Director for 10 years. We are honored to have his experience and enthusiasm for care as a resource for our New Dawn residents. 
Dr. Ragsdale's focus is compassionate care, personalized treatment and ensuring patient comfort at all stages of life.